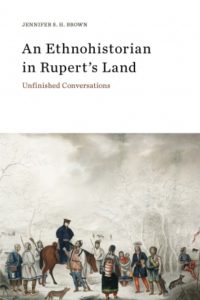 PUBLICATIONS OF INTEREST TO ETHNOHISTORIANS
Athabasca University Press's forthcoming publication, An Ethnohistorian in Rupert's Land, is a collection of investigations by Jennifer S. H. Brown into the surprising range of interactions among Indigenous people and newcomers in the ancient homeland of the Cree and Ojibwe people that came to be called Rupert's Land. For four decades, Brown has examined the complex relationships that developed among the Algonquian communities and the missionaries, anthropologists, and others who found their way into Indigenous lives and territories.
More than an anthology, An Ethnohistorian in Rupert's Land illustrates Brown's exceptional skill in the close study of texts—including oral documents, images, artifacts, and other cultural expressions—and elucidates the scholarly evolution of one of the leading ethnohistorians in Canada and the United States.
For more information visit: http://aupress.ca/index.php/books/120267